1) Within the 4C Association, producers, trade and industry and civil society from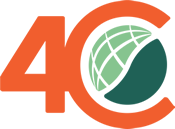 around the world work together for more sustainability in the entire coffee sector. 2) This global community has joined forces to continuously improve the social, environmental and economic conditions for the people making their living with coffee.
3) Main pillars of 4C are a code of conduct, rules of participation for trade and industry, support mechanisms for coffee farmers, a verification system and the participatory governance structure.
The 4C Verification System aims at helping 4C verifiable entities (4C Units) to know where they are with regard to the 4C Code of Conduct implementation and keep the momentum on the continuous improvement path. The verification service is performed by professional independent third-party verifier companies approved by the 4C Association.
A 4C Unit can be established at any stage of the coffee supply chain with two basic pre-requisites:
Production volume: minimum of 20 tons (or one container) of green coffee
Management capacity: a person/ group of persons managing the 4C Unit to implement the 4C Code of Conduct
The Ethical Tea Partnership (ETP) is an alliance of tea packers who are working together to improve the sustainability of the tea sector.  The ETP members share a vision of a thriving industry that is socially just and environmentally sustainable.  The companies involved range from major multi-nationals, whose brands are found in most kitchens and supermarkets, to privately owned specialists producing 'boutique' blends.  Together they cover around 50 brands, which are on sale in over 100 countries.
ETP aims to improve the lives of tea workers and ensure that tea drinkers can be confident that the tea in their cup has been produced in an environmentally and socially sustainable way.  ETP collaborates with a range of organisations to achieve these objectives.  The following pages explain how we work and the progress we are making.  We welcome interest in what we do and hope this site provides you with the information you require.
The Ethical Tea Partnership is a member of the Ethical Trading Initiative.
Our most recent publication, Enabling Change Across The Tea Sector, gives an up-to-date overview of the ETP and the work that we do across the tea sector.
Enhancing the competitiveness of African cotton
Cotton "made in Africa" has relatively long fibres, and is picked by hand – it is a high quality material. If the social and environmental conditions of growing are improved, that also increases the attractiveness of this raw material, which is already of high quality. The know-how of the project partners makes it possible to optimise management practices right from the start of growing, and in the first stages of processing.