UEBT APPROVAL
AfriCert is proud to officially communicate to you that we have now been qualified by UEBT to conduct the impartial and third-party assessments in its ethical sourcing system and natural ingredient certification programs for Egypt, Ghana and Nigeria. See here: https://www.ethicalbiotrade.org/certification-bodies
UEBT and the Rainforest Alliance have developed a joint Herbs & Spices Programme. All ingredients certified under this new programme will be able to carry the Rainforest Alliance certification seal.
With this partnership, we build on the positive track record of the UEBT/UTZ cooperation in herbal tea, the decades-long experience of the Rainforest Alliance and UTZ in sustainable agriculture certification, and UEBT's expert knowledge of ethical sourcing of ingredients from biodiversity, including those ingredients collected from the wild.
Signing of the MoU between AfriCert and KEPHIS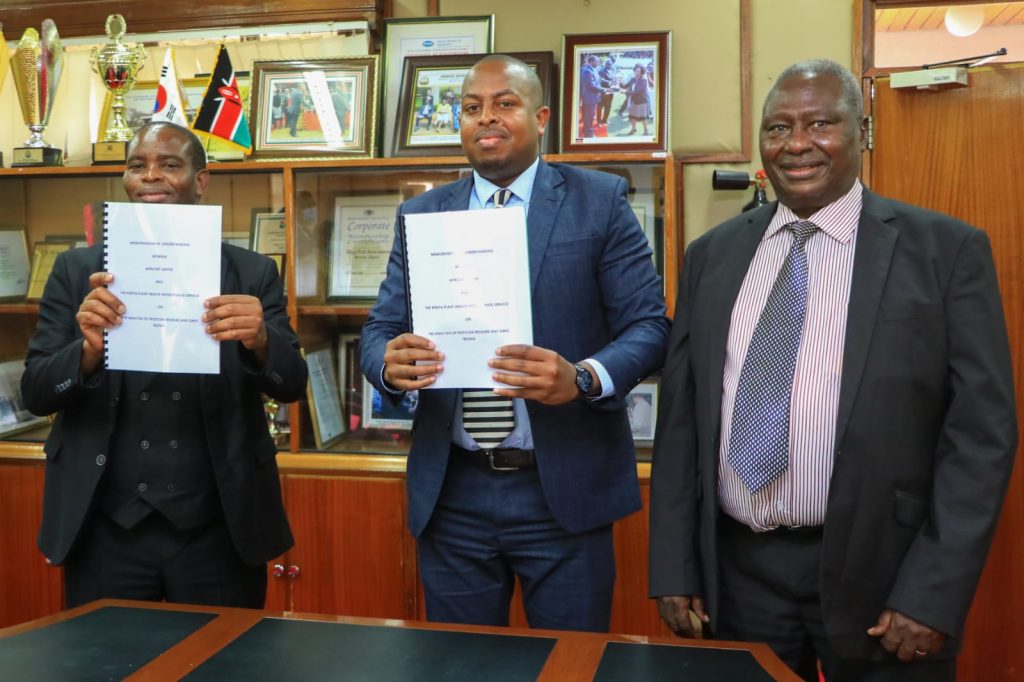 L – R: Prof. Theophilus Mutui ( MD KEPHIS), Mr. Anthony Nderitu (MD AfriCert), and Mr. Geoffrey Wathigo (Finance Director AfriCert) during the signing of the MoU between AfriCert: an ISO/IEC 17065 accredited Certification Body offering quality assurance services in line with Equivalent European Union Organic Production and Processing Standard, and Kenya Plant Health Inspectorate Service (KEPHIS) on 6/9/2021. The agreement covers testing of organically produced samples for pesticide residues and GMO material. This partnership will give African farmers the opportunity to access niche markets where their produce will fetch better prices.
CEO Promotion
We are pleased to announce the promotion of Mr. Anthony George Nderitu, from CEO, to Managing Director, effective 4th May 2021. Mr. Nderitu has been with AfriCert for 6 years, during which time he has put in place protocols which have led to the provision of timely and professional product and process assurance services that have led to value addition for customers and contributed positively to the growth of AfriCert within Africa.
RA Clients