Accreditation
Our accreditation as a Certification Body is based on ISO 17065 Standard and is granted by IOAS.
Accredited Certification under ISO 17065:
GLOBALGAP – Fruits and Vegetables
International Accredited Certification Bodies (IACB) Equivalent European Union Organic Production & Processing Standard for Third Countries
Approved Certification by UTZ Certified: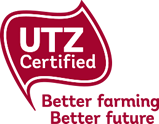 Utz Certified – Coffee, Tea and Cocoa
Approved verification:
4C (Common Code for Coffee Community)
CmiA (Cotton made in Africa)
CAFE Practices (Starbucks)
Cocoa Practices
Better Cotton Initiative (BCI)
Accreditation for RA Standards:
The Rainforest Alliance (RA) have developed an accreditation system to ensure trust and transparency in the inspection and certification of producers, manufacturers and distributors. Accredited certification bodies certify farms, group administrators, processors and traders that comply with SAN's standards and policies.
RA has with effect from 1st January 2017 taken over from IOAS to assess and monitor certification bodies that wish to provide certification to the SAN standards.
Scheme requirements
The RA assesses certification bodies against RA approval for Certification Bodies developed by RA technical experts for inspection and certification. The certification body must also be accredited to ISO 17065
The certification body can choose the following scope categories:
RA Sustainable Agriculture Standard
RA Chain of Custody Standard